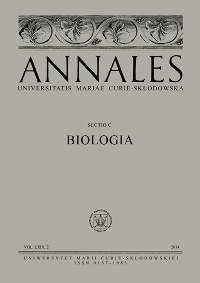 Annales UMCS, was founded in 1946 .The Journal publishes papers from a broad area of life sciences including different disciplines of biological sciences: biochemistry, biophysics, biotechnology, botany, ecology, microbiology, physiology, environmental protection and related subjects. Potential readers include researchers, teachers, students, and lecturers.
Punkty MNiSW 2015: 9
ISSN:
0066-2232
e-ISSN:
2083-3563
Submitted articles rejection rate : approx. 20%
Announcements
No announcements have been published.
Vol 73, No 1 (2018)