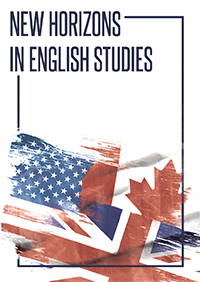 New Horizons in English Studies established in 2016 publishes research in English-language literatures, linguistics, and cultural studies. It welcomes submissions from undergraduates, graduates, and doctoral students, as well as professionals in the relevant fields. Due to our commitment to the open access format, we put great value in the work of emerging scholars. The readership includes students at all levels of education, teachers, academics, and anyone interested in recent developments in research on the English language in a variety of contexts. The journal is indexed in ERIH+, MLA International Bibliography, DOAJ (Direcory of Open Access Journals),  CEEOL (Central and Eastern European Online Library), CEJSH (The Central European Journal of Social Sciences and Humanities, MIAR (Spain) BazHum (Polish Humanities Journals), ICI World of Journals (Index Copernicus) - ICV 2021 = 100.00. The journal is archived in the digital repository of the National Library of Poland.
The journal publishes original analytical papers and reviews. There is one  volume a year in September for which the articles can be submitted online by December 31st of the year preceding the publication. From January 1st, we accept the submissions for the following year, unless specified otherwise in particular cases. For details on the submission process, please go here.
The journal does not charge APCs or submission charges. The journal is supported by Maria Curie-Skłodowska University in Poland. 
Editors are guided by the Committee's on Publication Ethics (COPE) recommendations. Detailed procedures are available here.
e-ISSN: 2543-8980
Announcements
No announcements have been published.
No 7 (2022)