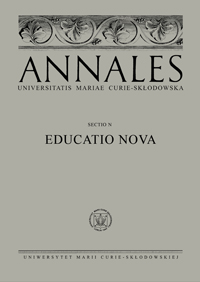 Annales UMCS sectio N Educatio Nova
publishes research papers presenting findings that can be implemented at different educational levels. The journal brings together various strains of research from the humanities, including literary and linguistic studies, as well as social sciences, including pedagogy and psychology. The annual volumes of our journal cover multidisciplinary approaches to education. Each volume offers Polish and international scholars a forum for sharing ideas and facilitating professional cooperation. Contributions from scholars who begin their career in Academia are also encouraged.
 Punkty MEiN: 40
ISSN: 2451-0491
e-ISSN: 2543-9340

ICV 2020 = 100

Submitted articles rejection rate: approx 20%.
Announcements
No announcements have been published.
No 6 (2021)