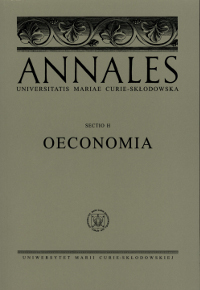 Annales Universitatis Mariae Curie-Skłodowska Sectio H Oeconomia is published by the Faculty of Economics of MCSU. The journal appears continuously since 1967. Annales Oeconomia is a quarterly since 2012.  It publishes texts from two disciplines out of social sciences: economics and finance as well as management and quality sciences. It is an open journal, aimed at a wide readership representing both academia and practitioners.
 

Punkty MEiN: 70

ISSN: 0459-9586
e-ISSN: 2449-8513
Acceptance rate of sent items: approx. 70-80%
Announcements
No announcements have been published.
Vol 56, No 2 (2022)