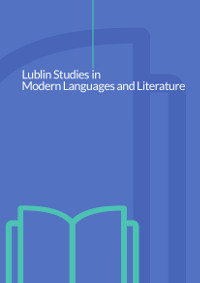 "Lublin Studies in Modern Languages and Literature" is a multidisciplinary peer-reviewed journal devoted to the study of literature, linguistics, translation and foreign language teaching in major modern European languages. Founded in 1972, it appears at present four times a year (March, June, September, December). The purpose of the journal is to provide a free platform for exchange of ideas between experienced as well as early career scholars, who conduct research in all major fields pertaining to modern European languages. It embraces a variety of scholarly theories, methodological perspectives and interpretive methods, so that they complement each other and thus enable an in-depth presentation of current issues in contemporary literary and linguistic research. The journal welcomes original articles and regularly publishes thematic issues devoted to current research in the academic disciplines within its scope. Authors are not charged any processing fees in the process of submitting and publishing manuscripts in the Open Access model. Current issues of the journal (from 2013) are available free-of-charge at http://journals.umcs.pl/lsmll, while the archive issues (1972-2013) at http://www.lsmll.umcs.lublin.pl..
MEiN points: 20
Index Copernicus Value = 100
E-ISSN:2450-4580
Submitted articles rejection rate: approx. 30%
Announcements
No announcements have been published.
Vol 45, No 2 (2021): Common Spaces in Discourses (Guest Editors: Dorota Kaczmarek & Joanna Pędzisz)